In an increasingly digital age, it makes sense for more services to support digital methods of communication. From office meetings to consultations, more people utilize the internet to seek the help they need while avoiding unnecessary travel. This situation is especially true in the medical field, where care of elders has embraced the fast advancements in virtual communications. This field is referred to as telehealth, and telehealth for elder care is becoming incredibly important across the country.
Telehealth for Elder Care: The Benefits
Reduced Travel
One issue with elder care is mobility and ease of travel. Unfortunately, not all seniors are as mobile as they were in their younger years. Also, there's the risk of injury or illness while traveling to consider, as the elderly have weaker immune systems and more fragile bodies. For these reasons, virtual communication like telehealth is vital to meet their medical needs.
Home Monitoring
It is worth noting that telehealth is a broad term that includes various services. Telemedicine is one such aspect of telehealth, where the patient and doctor have a virtual visit to discuss the patient's health and condition. For older adults, such virtual care is an obvious benefit. So too is Mobile Health, where the patient is monitored remotely with internet-enabled devices. Such technology has become increasingly present in medicine, as it can help diabetics and others with chronic issues. In addition, for the elderly, keeping track of their heart rate, blood pressure, activity levels, sleep quality, and the like is a great way to avoid a potential medical emergency.
Quick and Frequent Updates
Telehealth for elder care has other benefits beyond just the care itself between patients and doctors. For example, it makes obtaining and filing medical information easier. It also helps stay current on changes in condition, which facilitates faster adjustment of treatments and medication. For the elderly who remain mobile, telehealth is excellent for maintaining a link with doctors on their health while still enjoying life, which means improved quality of life.
Supports Independence
For those living alone, telehealth provides regular care and observation safely and without the reliance on assisted living. In addition, it reduces reliance on in-person visits and infrastructure to allow greater freedom for seniors, as their condition allows, of course.
Telehealth for elder care provides a variety of benefits. Continual monitoring of conditions, ease of regular medical visits, and improved quality of life, as a result, mean an easier life for seniors, which improves happiness and health.
Dr Liz Geriatrics
Are you caring for a senior that would benefit from telehealth? Dr Liz Geriatrics can help. Our goal is to work with patients, caregivers, and doctors to develop a care plan. We specialize in telehealth for elder care and incorporate it into our care plans. If you need assistance, contact us today at 650-357-8834 x1.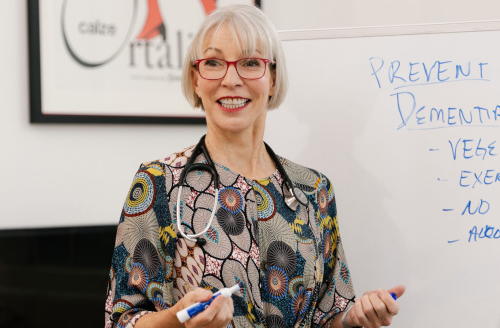 Elizabeth (Dr Liz) has over twenty years of experience in providing medical care to the elders. She is board-certified in Internal Medicine, Geriatric Medicine and Palliative Care Medicine. Dr Landsverk founded ElderConsult Geriatric Medicine, a house calls practice, to address the challenging medical and behavioral issues often facing older patients and their families.