Senior patients face many challenges when attempting to access good mental and physical medical care. But, surprisingly, some of these issues were significantly reduced in the past two years with the increased use of telemedicine – patients speaking to doctors via telephone or online video call. Here are some main factors that have recently influenced elderly adults to start using telemedicine.
TeleHealth Benefits for Seniors
Transportation Challenges
Elderly adults require many visits to a medical clinic to seek advice or renew a prescription. But that simple task presents challenges if the senior has mobility problems or doesn't have transportation to a clinic. As a result, they must find alternative ways to access medical care. Telemedicine is one solution that can be done within their own homes, saving them time and money as they now don't have to hire a taxi or find a relative to drive them to the clinic. Telehealth for geriatric care has solved these transit issues.
Keeping Safe & Healthy
Elderly adults are more susceptible to infectious diseases, including Covid-19, and many wish to avoid exposure. Telehealth means they can safely access the medical care they require, all from the safety of their homes. In addition, handling patients via telehealth allows medical clinics to function more effectively should a patient need in-clinic care. The number of patients at the clinic can be restricted, so those who need in-person care can be kept safe from exposure.
Effective Medical Condition Monitoring
With the advent of smart devices and apps, an elderly patient can access medical monitoring of pulse, heart rate, and blood sugar levels that can be recorded and stored within apps. Their physicians can quickly access this information to see how the patients are doing and determine if they need any adjustments in their treatment plans. Importantly, there is no need for a senior adult to head to the medical clinic to monitor their blood pressure or other medical conditions. This improves safety, convenience, and compliance. Telehealth for geriatric care makes medical care much simpler for the elderly patient and the physicians monitoring their health. Some seniors may have challenges learning new technology, but overall, they're happy to stay home to access quality medical care from their physicians. Through telehealth, elderly adults have access to the care they need.
Dr Liz Geriatrics
If you're caring for an older adult, you can undoubtedly benefit from a telehealth provider to help guide you through a reasonable care plan. Dr Liz Geriatrics can help. Our focus is on supporting seniors and their caregivers to obtain the best possible results. In addition, we can recommend a care plan specific to the patient's needs. So, contact us at 650-357-8834 x1 and take the first step towards a healthier life.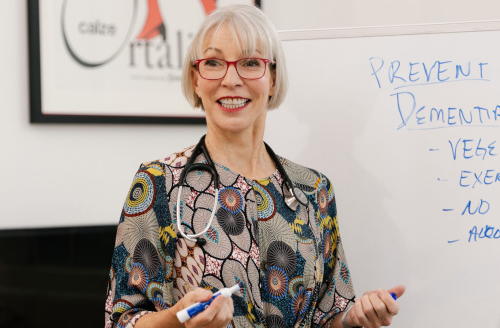 Elizabeth (Dr Liz) has over twenty years of experience in providing medical care to the elders. She is board-certified in Internal Medicine, Geriatric Medicine and Palliative Care Medicine. Dr Landsverk founded ElderConsult Geriatric Medicine, a house calls practice, to address the challenging medical and behavioral issues often facing older patients and their families.