Technology is changing the way we live our lives, and the healthcare industry is no exception. For example, telehealth is a new technology that allows patients to receive medical care from a distance. This type of care is especially beneficial for elderly patients who cannot travel to a doctor's office or hospital for treatment. This blog post will discuss the benefits of telehealth for the elderly and how this technology is changing healthcare.
TeleHealth Benefits for the Elderly
The elderly are one of the most vulnerable populations in our society. They often require more care and attention than other age groups and benefit significantly from telehealth technology. Here are some of the most significant benefits:
Eliminates the Need to Travel
One of the most significant benefits of telehealth for the elderly is eliminating travel. Many elderly patients cannot drive due to health concerns and lack alternative transportation. Telehealth allows them to receive medical care from the comfort of their own home.
Reduce the Cost of Care
In addition to eliminating the need to travel, telehealth can also help reduce the cost of care. For example, when elderly patients receive treatment while staying at home, this eliminates the transportation cost that they would have incurred while visiting the doctor's office or hospital.
Improve the Quality of Care
Another benefit of telehealth is that it can improve the quality of care. Elderly patients require more monitoring than other age groups, so having access to a nurse or doctor, 24/7 can make all the difference in their health. In addition, not having to wait for advice or treatment can mean a better outcome.
Add Outside Experts
TeleHealth allows the care team to expand to larger spheres because you can include experts worldwide.
It is Instant
TeleHealth is instant. If seniors need to speak with their doctor, they can connect with them via video chat in mere seconds. So you don't even have to wait in long queues to get a consultation.
A More Convenient Option
Finally, telehealth offers a more convenient option than going to the hospital or doctor's office for treatment. Elderly patients often have restricted mobility due to arthritis or other conditions that cause pain when moving. Access to medical care at home is crucial for these patients because it allows them to receive treatment without leaving their house and risking a fall or additional pain.
Overall Patient Satisfaction
One of the essential benefits of telehealth is that it improves overall patient satisfaction. Elderly patients who receive care from home are more likely to be satisfied with their experience than those who visit a hospital or doctor's office for treatment.
Dr Liz Geriatrics
Regarding telehealth for geriatric care, one of the most prominent names is Dr Liz Geriatrics. With years of experience in the medical field, our team offers excellent service for patients and caregivers. Our goal is to provide specified care plans that benefit both patients and caregivers for the best possible results. For more information, contact us at 650-357-8834 x1.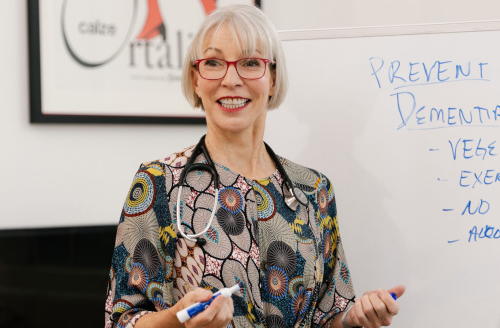 Elizabeth (Dr Liz) has over twenty years of experience in providing medical care to the elders. She is board-certified in Internal Medicine, Geriatric Medicine and Palliative Care Medicine. Dr Landsverk founded ElderConsult Geriatric Medicine, a house calls practice, to address the challenging medical and behavioral issues often facing older patients and their families.