Sometimes it can be challenging to get a clinic appointment. It can be even more challenging for seniors to get the medical care needed for mobility or transportation problems. Telehealth for seniors is an excellent solution for seniors who generally have questions about their physical or mental health. Telehealth supports and augments a treatment plan set up by a patient's primary care team. One thing many fail to comprehend is that telehealth isn't doing anything fundamentally different with your care – you are just receiving the care in a different way!
Telehealth can be a phone call between a doctor and patient or an online computer video call with sound and visuals. Often this is the start to better health. For example, the telehealth physician looks at a patient's medical, social, and emotional situation. Then, they work with the patient to set goals and plan a pathway to achieve them. For the majority of patients and ailments, telehealth is more than capable of meeting your needs.
Extensive Services Available
Telehealth can provide a wide range of services to seniors. It begins with an online consultation. The doctor may recommend that the patient undergo additional tests or evaluation, but the patient returns to their primary care physician, who will order the tests. Once all the information is collected, a care plan can be created or adjusted. There may be educational articles offered that the patient can read on the website. If seniors are in their later years, self-management and care management can be coordinated with their caregivers to keep the patient at home.
Out of Area Specialists
There is an enormous need for geriatric physicians in the USA, as the population is aging and needs more care. Unfortunately, with 3500 practicing geriatricians and 54.1 million people over 65, many areas have no geriatric specialists available. With all of the innovations in technology we see today, an out of area specialist is only a phone call away.
No longer do you have to travel hours or days away to get the care you need. It puts the control of the patient's health back in their hands. They can quickly book a telehealth appointment and attend that appointment from the safety of their homes. Online appointments also tend to have less downtime meaning a geriatric care professional can get through more patients when working online generally.
Telehealth for Seniors Helps Avoid Exposure
Seniors are more susceptible to contracting Covid-19 and may hesitate to get simple medical problems checked out because they fear exposure at the doctor's office. We understand that concern and it is valid to feel that way. Any disease out there could sneak up on you whenever so it's best to not put yourself at more risk than you need to. Self-diagnosis can quickly become a slippery slope for anyone.
It's crucial to have all medical concerns checked by a doctor, as sometimes situations can worsen when left unchecked. The sooner a problem is diagnosed, the sooner the patient is on the path to recovery and feeling better. You would hardly believe the number of common medical issues and ailments that are easily avoidable just by going to the doctor. Yet we see the same things year after year.
Dr Liz Geriatrics
Need help? A telehealth for seniors visit is simple to book online. There are multiple apps and websites that offer this service. Dr Liz Geriatrics is dedicated to helping seniors and their caretakers receive needed healthcare information and guidance. Contact us at 650-357-8834 x1 – help is just a phone call away. She will be in touch with you, with the answers you need, just as soon as she can.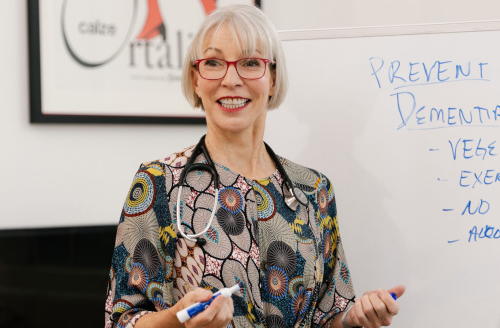 Elizabeth (Dr Liz) has over twenty years of experience in providing medical care to the elders. She is board-certified in Internal Medicine, Geriatric Medicine and Palliative Care Medicine. Dr Landsverk founded ElderConsult Geriatric Medicine, a house calls practice, to address the challenging medical and behavioral issues often facing older patients and their families.