Covid-19 has impacted seniors' health far more than any other demographic. Life expectancy dropped a full year and a half, according to the CDC. In addition, many feel hesitant about exposure during an in-person visit at a medical clinic. Yet seniors must have the medical care they require to diagnose new conditions and have effective treatment for the conditions they are currently managing. Over the past year or so, telehealth access for seniors has been the best solution for a problem that will only increase as seniors age.
Using Smart Devices to Access Medical Care
It's a challenge for those seniors worried about being exposed to Covid and those with mobility issues. If they don't drive, seniors often feel reluctant to rely on the kindness of others for rides, and it can be expensive to hire a car to get to medical appointments. In these situations, online healthcare is a great option. A senior can use an app on a smart device (phone or tablet) to book a telehealth appointment with a qualified physician to discuss medical issues.
Seniors' Healthcare is Top Priority in 2022
Today, more seniors have mobile phones and devices than a few years ago, but many still don't have that option. As we move away from landlines, it's essential to encourage the senior population to embrace new technology that can assist them in staying in their homes and gaining all the necessary medical care that they require. This help may include prescription updates, proper medical diagnoses, and mental health care counseling. Telehealth access for seniors will also allow them to chat with a doctor to determine if an in-person visit at a medical clinic is necessary.
Telehealth Services
A telehealth call is an important communication method that provides telehealth access for seniors. It can also be done through a video call software app, such as Zoom, Google Meet, or Vidyo. In addition, some apps can be set up to enable Remote Patient Monitoring (RPM). RPMs can monitor:
heart rate
blood pressure
heart disease
blood sugar levels for diabetics
breathing rates for asthmatics
These telehealth apps store medical data for access by patients or doctors.
Working With Seniors
Some seniors are up-to-date on the latest advances in technology. In contrast, others will need support and training to use smart devices with telehealth access for seniors, improving their lives.
Dr Liz Geriatrics
The pandemic has opened the options of telehealth access for seniors. Telehealth is an excellent tool for both patients and caregivers. Creating a care plan that includes it is vital today. Dr Liz Geriatrics can help. Our goal is to educate and support caregivers and patients and work with their physicians to obtain the best patient results. Contact us today at 650-357-8834 x1 or you can use the questionnaire at drliz.info/get-telehealth to tell us more about what's going on for you.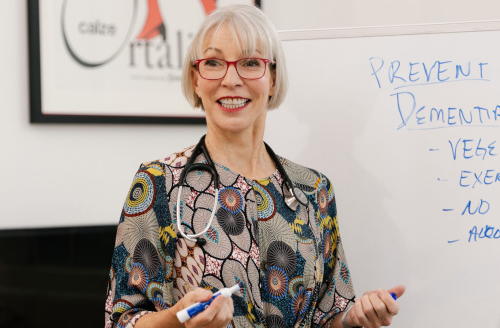 Elizabeth (Dr Liz) has over twenty years of experience in providing medical care to the elders. She is board-certified in Internal Medicine, Geriatric Medicine and Palliative Care Medicine. Dr Landsverk founded ElderConsult Geriatric Medicine, a house calls practice, to address the challenging medical and behavioral issues often facing older patients and their families.