Telehealth is a rapidly growing field, opening the doors for healthcare providers to access their geriatric patients in a way like never before. In 2020 the telehealth industry grew to over $36.2 billion, and the trajectory continues to rise. However, with the increase in virtual care, healthcare providers must cross some hurdles to ensure every patient receives the best care possible. This article lists some strategies providers can use to overcome everyday struggles with incorporating telehealth for geriatric care.
Telehealth for Geriatric Care
What Is Telehealth?
Telehealth is a broad term for virtual healthcare covering services in various fields. Telehealth makes healthcare more accessible and affordable while providing seniors with a sense of comfort and security, knowing their doctor is always within reach. When used correctly, telehealth helps bridge gaps in care and gives patients freedom.
Types Of Telehealth Care
Here are five types of telehealth available to healthcare providers.
Live Interactions – Real-time care between patients and doctors.
Store and Forward – Data is taken, stored, and then forwarded to the healthcare team.
Remote Patient Monitoring – A mobile device collects the patient's vitals and submits them to the provider.
Mobile Health – Patients use an electronic device to manage their healthcare.
Consultations – Interactions with third-party healthcare consultants that work with patients, doctors, and caregivers to coordinate care for the best possible outcome.
Strategies For Implementing Telehealth Geriatric Care
Geriatric care creates a specific set of challenges regarding telehealth. Seniors may find operating an electronic device difficult. Again, simplicity is essential and how you present the technology is as important as the technology itself. Offering these services may help ease the anxiety of using telehealth.
Deliver Tablets – Provide cellular-enabled electronic devices to patients or caregivers without them. A traveling medical assistant can accompany the delivery, explain how to use the system, and answer any questions.
Do a Practice Visit – A healthcare ambassador can schedule an in-person visit and walk the senior through the process from beginning to end. This method works best with patients who have access to technology but struggle with using it.
Utilize Remote Monitoring Devices – A remote monitoring device is perfect for patients who need daily vitals reported. It can send the information directly to the caregiver or provider, who can log it as required.
Bringing telehealth to seniors is beneficial in many ways. Using strategies that make them comfortable with the technology is a big step towards meeting their needs.
Dr Liz Geriatrics
Telehealth is an excellent resource for geriatric care, and the specialized providers at Dr Liz Geriatrics can ensure you get the help you need and deserve. Our highly trained specialists provide one-on-one consultations to help you navigate the challenges of senior care. From pain management to dementia support, let our team at Dr Liz Geriatrics walk this journey with you. For more information, contact us at 650-357-8834 x1.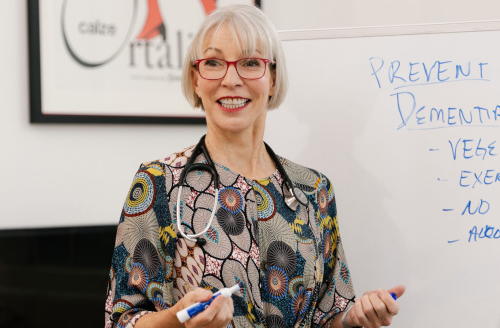 Elizabeth (Dr Liz) has over twenty years of experience in providing medical care to the elders. She is board-certified in Internal Medicine, Geriatric Medicine and Palliative Care Medicine. Dr Landsverk founded ElderConsult Geriatric Medicine, a house calls practice, to address the challenging medical and behavioral issues often facing older patients and their families.