In the modern age of digital technology, many may assume that the older generations cannot keep up and that they cannot adapt to new forms of communication. However, in general, this is simply untrue. This includes using telehealth. The benefits of telehealth for geriatric patients became more and more apparent throughout the pandemic. Geriatric patients can utilize this system to improve their access to care and reduce healthcare costs.
The number of elderly Americans will continue to rise in the foreseeable future. As a result, these elderly patients will need better and more accessible healthcare, and telehealth for geriatric care fills in the gaps. Nobody should have to wait unreasonably long for appointments that are critical to your health – we want to ensure you can get the care you need right when you need it.
Affordable Elderly Care is Essential
Many elderly patients now and in the future will have an increased need for affordable healthcare. However, with partners passed on or children too busy to help, patients with mobility issues may not visit their healthcare provider when needed, which is a huge issue.
Additionally, the price of putting an older adult in a nursing home or having an in-house nurse taking care of them can be astronomical, a financial burden too large for many families to bear. Most geriatric patients prefer at-home care to a nursing home because it's familiar and comforting. Even if a loved one moves in with the patient, there can still be difficulties due to a lack of knowledge in the proper care required.
Improve Access to Elderly Care with Telehealth
These issues can be solved by using modern communication technology to connect geriatric patients with their healthcare providers from the comfort of their homes. Telehealth eases the financial burden of elderly care while also providing increased ease of access. If you're still not sure – learn more about what telehealth is.
With telehealth, patients can consult their healthcare providers remotely through live video, audio, or instant messaging on a telemedicine app of their choosing. This method saves time, energy, costs and eliminates the need to transport the geriatric patient to and from the clinic. As a result, telehealth can reduce the number of unnecessary hospital visits, reduce travel costs, ease the stress of at-home caregivers, and increase the satisfaction of geriatric patients.
By providing quick and direct access to healthcare providers from the comfort of the home, telehealth will change the future of senior care. No longer do the elderly have to risk their health in any form of fashion by going to out every appointment under the sun. They can get the care and opinions they need right when they need them. Having to travel for appointments also just puts a lot of stress on everyone that, if avoidable, is worth avoiding.
Quality Care from a Distance
You may be concerned about the quality of treatments available with telehealth – but rest assured at this point the attention and care you can expect from a telehealth appointment are as good as if you were in person. Now if your doctor determines for whatever reason they need to get hands-on to determine something – you may still need to go into the office! But for the most part, your caregivers can examine and diagnose many things just by talking to you and looking over video.
Dr Liz Geriatrics – Telehealth and Geriatric Care Experts
Do you need help navigating the complexities of caring for an aging loved one? Dr Liz Geriatrics can help. Dr Liz Geriatrics is an education and advisory organization, providing practical, engaging, (and sometimes entertaining) knowledge to those on the front line caring for elders. For more information, contact us at 650-357-8834 x1.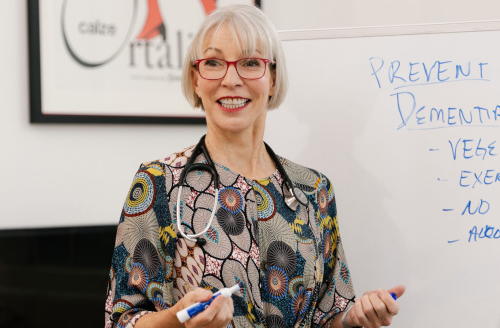 Elizabeth (Dr Liz) has over twenty years of experience in providing medical care to the elders. She is board-certified in Internal Medicine, Geriatric Medicine and Palliative Care Medicine. Dr Landsverk founded ElderConsult Geriatric Medicine, a house calls practice, to address the challenging medical and behavioral issues often facing older patients and their families.