Seniors Are Suffering from an Opioid Epidemic
12 million Medicare opioid prescriptions were written last year – is this a crisis? Or just pain management?
Robert McGarvey, Jul 5, 2016 
Nearly 12 million Medicare recipients received a prescription for an opioid last year, said the Office of the Inspector General for the U.S. Department of Health and Human Services. That's about one in four.
The pills cost around $4.1 billion.
Included in the haul were Oxycontin – a drug to which radio star Rush Limbaugh was addicted – and Fentanyl, the drug that killed Prince. Also popular are Percocet and Vicodin. All are seriously addicting. The government wants doctors to write fewer opioid prescriptions. Sounds simple, right? It's not.
Here's the question: why are so many seniors taking to opioids? The other question: is this in fact a bad thing?
The answer to both questions just may be that seniors often have a lot of pain, said Northern California geriatric physician Dr. Elizabeth Landsverk. For some of them, said Landsverk, an opioid may be just the right way to approach pain alleviation.
"Opiate use is appropriate in certain patients," agreed Dr. Michael Lowenstein, an opioid dependency expert in Southern California.
The problem arises when the senior citizen develops a dependency on opiates and starts increasing the dosage. How? Understand this: "Doctors don't envision a 65-year-old with a pain killer addiction," said Dr. Jeffrey Reynolds, CEO of the Family & Children's Association on Long Island and a member of New York Governor Cuomo's Heroin & Opioids Task Force.
That is key; seniors generally get a pass when they want more and more powerful drugs. If a 25-year-old suddenly wants more Oxycontin, every doctor's warning systems go into high alert. When a Medicare card-carrying senior complains of hip pain – which he probably has, many physicians shrug and write the prescription, frequently for an opioid.
It gets harder to spot a senior with an opioid problem. Michelle Comtois, LCSW, a vice president with First Call Alcohol/Drug Prevention & Recovery in Kansas City, Mo., said that in fact the usual screening guidelines employed to determine if a patient has a dependency issue with an opioid just don't work with seniors. That's because this involves asking questions like, "Does the drug use interfere with his/her work performance? Does it cause problems driving?"
A lot of the usual questions just have no pertinence to a senior, said Comtois. "They are aimed at a different population."
One problem is that seniors are swallowing a lot of pills. But what causes this problem in the first instance is that physicians are over-prescribing opioids, said multiple sources, including physicians. That is easy to say. The harder thing, said multiple physicians, is deciding this patient needs an opioid, but that one does not. That is because pain is a personal phenomenon, and a physician is in no position to decide that Joe Senior is lying about how much pain his arthritis causes.
Ask Joe or Judy Senior, on a scale of 1 to 10, where do you score your pain – and in many cases the immediate answer is 12. That is when an opioid prescription gets written. "Physicians are in a conundrum," said Timothy Legg, a medical reviewer for Healthline.com. "They are trying to be judicious about prescribing, but they also want to treat pain." 
What will stop the physician from too swiftly writing the prescription? "Physicians need to look for alternative ways to manage long-term pains," said Reynolds. "They also need to talk with their patients about the options for managing pain."
A lot of doctors frankly are doing neither. It is faster to write a prescription than it is to have a talk about a complicated subject.
And at least some physicians want to continue to have opioids in their medicine chest. "We are going wa
y overboard in trying to stop senior use of opioids," said Landsverk. She pointed out that some common alternatives – such as Motrin – are associated with blood pressure spikes in seniors who already have high blood pressure. That is a very risky result.
Landsverk added: "Everything has to be person centered. Health care providers have to follow up more closely with the patient to find out how he/she is handling the opioid." Do that, she suggested, and in many cases opioids can be safely prescribed and consumed.
Know this, however: nobody thinks there is an easy, short-term fix for seniors and opioids. Seniors have pain, and opioids fix pain. At least that is how many – both seniors and doctors – now see matters.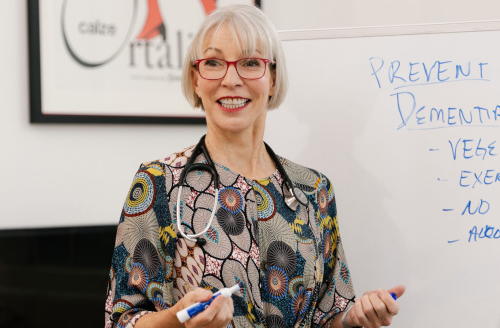 Elizabeth (Dr Liz) has over twenty years of experience in providing medical care to the elders. She is board-certified in Internal Medicine, Geriatric Medicine and Palliative Care Medicine. Dr Landsverk founded ElderConsult Geriatric Medicine, a house calls practice, to address the challenging medical and behavioral issues often facing older patients and their families.