Alzheimer's and Brain Awareness Month
How the Alzheimer's Association and health care professionals are working to raise awareness and fight this progressive disease
By Kirsten Malenke, Staff Writer at ADVANCE
Posted on: June 20, 2016
For my grandmother, the initial signs were subtle, like easily misplacing things and repeating her herself far too often. At first we attributed these differences to her age, but when she began experiencing significant anxiety and called one day to tell us that there was a strange man in her house – my grandfather – my family had to acknowledge a serious problem. She declined rapidly, and within a few months lost the ability to walk on her own, hold a coherent conversation, and now barely remembers the names of those she loves. This painful journey, though unique to each individual, is experienced by over five million Americans and their families. This is Alzheimer's disease.
Alzheimer's Disease
Alzheimer's disease is not a part of the normal aging process. It's a progressive disease that causes brain cells to degenerate and die, destroying memory and mental functions.1 It is the most common form of dementia – a general term for the loss of memory and other intellectual abilities severe enough to interfere with daily life – and is the sixth-leading cause of death in the United States.2
Though Alzheimer's primarily affects people over the age of 65, up to 5% of people with the disease have early-onset Alzheimer's, which usually appears in individuals in their 40s or 50s. Forgetting newly learned information, repeating questions and statements, confusion, misplacing things, and mood and personality changes may be signs that someone is developing Alzheimer's. Usually, people with Alzheimer's disease gradually progress through main three stages – mild (early-stage), moderate (middle-stage), and severe (late-stage) – though some individuals may decline rapidly. Eventually, people with Alzheimer's can lose the ability to function properly and respond to their environment.
Scientists believe that for a majority of people, Alzheimer's is caused by a combination of genetic, lifestyle, and environmental factors that affect the brain over time.1 The best-known risk factor for Alzheimer's is increasing age, although genetics appear to be a risk factor as well. There is no cure for Alzheimer's disease, but medical treatment can help with symptoms and enhancing engagement may improve quality of life for those with Alzheimer's and their caregivers.
The Alzheimer's Association
Founded in 1980 by Jerome H. Stone and representatives from several family support groups, the Alzheimer's Association is the leading voluntary health organization in Alzheimer's care, support, and research. The mission of the Alzheimer's Association is to "eliminate Alzheimer's disease through the advancement of research; to provide and enhance care and support for all affected; and to reduce the risk of dementia through the promotion of brain health."3 The Alzheimer's Association offers a 24-hour helpline, support groups, educational sessions, and online resources. Since 1982, the Alzheimer's Association has invested over $350 million in more than 2,300 scientific investigations into the disease.3
The entire month of June is dedicated as Alzheimer's and Brain Awareness Month, during which the Alzheimer's Association encourages people to "go purple," the signature color of the organization. Individuals can show their support by wearing purple or can go purple on social media and use the hashtag #ENDALZ. On June 20, the summer solstice, people are invited to participate in "The Longest Day." This is an annual team event in which people spend a day participating in an activity they love to raise funds and awareness for the Alzheimer's Association and to honor those living with the disease. A sunrise-to-sunset initiative, it symbolizes the challenges faced by those living with Alzheimer's and their caregivers, who might feel that every day is "the longest day."
Neurologist Perspective
"Normal aging shouldn't be associated with a loss of independence or a risk of making critical errors in finances, medications, or other decision-making activities. That's not normal, and whether it happens at age 90 or 70, that person requires assistance. Dispelling that myth is really important," said David S. Knopman, MD, and current vice-chair of the Medical and Scientific Advisory Council of the Alzheimer's Association. Knopman is a behavioral neurologist at Mayo Clinic, and because his practice and clinical research focuses entirely on dementia, raising awareness is an everyday activity.
"The reason it's important is because it's a common disorder in the elderly, and although knowledge about dementia and Alzheimer's disease has increased over the last 30 years, even over the last 10 years, there is still a great deal of misunderstanding and underappreciation of the consequences in management of dementia in general and how to make a good diagnosis."
Knopman added, "I would like to emphasize the importance of thinking about dementia broadly, and not just about Alzheimer's disease specifically. Because all too often healthcare providers don't have a very good understanding of the common diseases that are associated with dementia that look much like Alzheimer's but have different features; so increasing awareness of the different types of dementia is really important." He also emphasized the value of acknowledging the concerns of patients and families worried about memory problems. "I think taking the problems seriously, listening, and if there are questions, referring people with subtle problems to more specialized centers where there is expertise is important."
Geriatrician Perspective
Elizabeth Landsverk, MD, geriatrician, dementia specialist and adjunct clinical professor at the Stanford University School of Medicine, founded ElderConsult Geriatric Medicine, a house-calls practice, to address the challenging medical and behavioral issues often facing older patients and their families. In a discussion with ADVANCE, Landsverk emphasized the importance of raising awareness of Alzheimer's to protect those developing the disease, and their assets for their care, as they experience cognitive decline and decreased risk-awareness.
"Early changes occur in their abstract thinking and reasoning, risk assessment, and judgment. They are at highest risk for financial elder abuse at that point," Landsverk explained. She also noted the significance of treating pain adequately and properly for those with Alzheimer's. "If you take care of the elder's needs and get them involved in activities that they enjoy, and then you address the pain, that will go a long way for a number of folks to quiet their agitated behavior without causing them more problems."
Landsverk is working to increase awareness of dementia, and Alzheimer's in particular, in a variety of ways, including holding conferences and giving a number of talks throughout the year. She is also the lead educator for the California Coalition for Culture Change, a multidisciplinary state coalition of lawyers and representatives of skilled nursing facilities, assisted living, and the Alzheimer's Association, who have come together to raise awareness of the need for better care for elders, particularly those with dementia. 
In addition to providing dementia resources on the ElderConsult site, Landsverk offers webinars for physicians and elder care professionals and families. These webinars address diagnosing dementia, behavioral intervention, treating pain, and psychoactive medications. Landsverk is also working to develop an online community throughElderConsult.com, using her geriatric expertise to answer caregivers' questions and discuss the challenges of caring for elders with dementia.
Recent Funding
On June 9, the Alzheimer's As
sociation announced that the Senate Appropriations Committee approved a $400 million increase in Alzheimer's disease research funding at the National Institutes of Health, also including the Health Outcomes, Planning and Education (HOPE) for Alzheimer's Act (S.857) in the funding bill.4 If signed into law, the HOPE for Alzheimer's Act would increase access to information on care-planning services for newly diagnosed individuals and their families, in addition to ensuring that a diagnosis of Alzheimer's or dementia is documented on the individual's medical record.
In a June 13 article reported by Charleston Gazette-Mail, an Alzheimer's Association representative wrote, "The end of Alzheimer's disease is no longer a mirage off in the distance. We can truly see the impact of the Alzheimer's Association, scientific researchers and our public policy advocates. A special thank-you to everyone who works tirelessly to fight this disease. This glimmer of hope makes our vision of a world without Alzheimer's disease even clearer."5
 Kirsten Malenke is a staff writer at ADVANCE. Contact: kmalenke@advanceweb.com
References
1. Mayo Clinic. Alzheimer's Disease. http://www.mayoclinic.org/diseases-conditions/alzheimers-disease/home/ovc-20167098
 2. Alzheimer's Association. 2016 Alzheimer's Disease Facts and Figures. 
http://www.alz.org/stl/documents/facts2016_infographic.pdf
3.  Alzheimer's Association. About Us. http://www.alz.org/about_us_about_us_.asp
4.  Alzheimer's Association. Alzheimer's News, 6/9/2016.http://www.alz.org/news_and_events_alzheimers_association_
celebrates_extraordinary_week.asp
5.  Charleston Gazette-Mail. Letter: An Extraordinary Week in Alzheimer's Research.http://www.wvgazettemail.com/daily-mail-letters-to-the-editor/
20160613/letter-an-extraordinary-week-in-alzheimers-research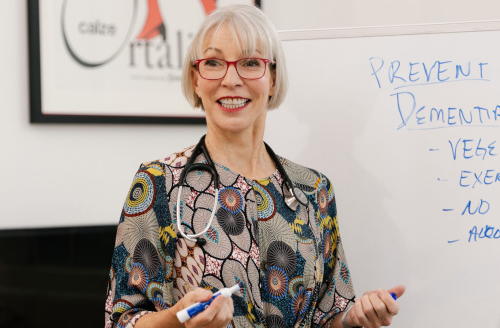 Elizabeth (Dr Liz) has over twenty years of experience in providing medical care to the elders. She is board-certified in Internal Medicine, Geriatric Medicine and Palliative Care Medicine. Dr Landsverk founded ElderConsult Geriatric Medicine, a house calls practice, to address the challenging medical and behavioral issues often facing older patients and their families.