Dementia center separates men from women in new "gender specific" approach
By Elizabeth Simpson, The Virginian-Pilot, Nov 25, 2016
What's good for the goose may not be good for the gander, especially if you live at Commonwealth Memory Care at Norfolk.
The assisted-living center for people with dementia recently went to a "gender-specific" format, where men live on one floor and women on another. Even activities are tailored to the sexes.
It's golfing for the men and scarf dancing for the women. One floor of the same-sex residential halls is decorated with a military and sports motif. Another features more feminine decor of hats, pearls and seaside scenes.
Younger generations might find that jarring, but administrators say it appeals to some older people who grew up in settings where men and women held more gender-specific roles.
It also wards against what adult children of residents might deem "inappropriate relationships." That's a subject that administrators often navigate in a setting where people with dementia may not remember who their spouse is or what their families might think of a new companion.
It's a delicate balance between the dignity of mixed groups, with their potential for new love and romance, and the relative safety of same-sex settings.
Dr. Elizabeth Landsverk, a geriatrician who founded and directs ElderConsult Geriatric Medicine in the San Francisco area, said the dilemma is common, though the Norfolk facility's approach is still fairly rare. Her advice is to always focus on the wants and interests of the individual resident.
"You have to give them a choice," she said. "There are women who don't want men around. If you're ethical, it's not what makes you comfortable, it's what they want. While some might prefer it, others might miss the interaction.
"And if you have two people who enjoy each other's company, they may end up holding hands, acting like a married couple. The wife or children have the idea that that's not right. But as long as there's no risk, and no one's being injured, it gives quality of life to their days. This is giving them comfort."
The switch at Commonwealth Memory Care began in September, when flooding caused residents to be moved from the first floor.
Administrators decided to try putting men and women on separate floors. They also developed some gender-specific programming, although they continue to have some activities that blend the sexes.
Bernadette Cavis, vice president of resident care at Commonwealth Senior Living, which runs 23 senior living facilities throughout Virginia, said the idea had been tried by one of its facilities in Hampton several years ago and continues to work well.
"We've always been challenged with programming for men," she said. Across the country, women outnumber men in long-term-care settings, and men sometimes feel out of place in settings decorated in a feminine style or doing arts-and-crafts activities.
Another issue is the comfort level of the residents. People with Alzheimer's and other dementia sometimes become confused and agitated and can lash out. Men tend to be bigger and may seem threatening to women. Some people might also suffer from a lack of judgment and diminished mental capacity, so they might not know how to ward off unwanted advances.
It's difficult, though, to know when it's consensual and when it's coerced. But the administrators said some family members felt more comfortable if their female relative spent most of their time with other women.
"It's not for everyone," Cavis said. "Some might like it, and some may not."
If they don't, there are other facilities in the area, and Commonwealth operates others with the traditional mixed-gender approach.
Carrie Little, the Norfolk center's administrator, said she believes people are able to share more in gender-specific groups, a concept some all-women's colleges have also noted.
"I can tell you there's a unique difference, especially in the male community," she said. "They start to come out. They show more emotions."
One day earlier this month, Willie Powell tried his hand at putting on a golfing mat at one end of his unit.
"All right, Mr. Powell, it's all you," said Laura Redilla, who organizes the activities at the center.
Powell took a couple of shots, then handed the putter off to Carl Schulz.
"What kind of bill have I rung up so far?" Schultz asked after a few shots.
"No bill; it's all on the house," Redilla said.
Other activities for men include a discussion of how cars are made, watching Monday Night Football and taking a military base tour. Women arrange flowers, make leaf prints and have singalongs.
Powell said he thinks the new separate-gender format works well.
"It's less hazardous that way," he said. "If you put them all together, it gets mixed up. Someone will say something that gets things messed up. I'm an 80-year-old man. It's time for me to settle down."
As for Schultz: "I don't care one way or the other."
Meanwhile, on the second floor, five women played a ring-toss game. They laughed and clapped and encouraged one another.
"Come on back home now!" Evelyn West said as she threw the ring with a flourish. "Yes, that's right, that's the way to do it."
While this model is still rare, there are such units in other states, including Florida and Ohio.
Kristina Yoho, administrator at Vista Center at The Ridge in Mineral Ridge, Ohio, said its gender-specific units for dementia patients opened about five years ago.
She said women, in particular, seem to feel safer: "They don't feel they're at risk of a confused gentleman walking into their room or making an inappropriate action."
Agitation and aggression have lessened on both units: "It's calmer."
Yoho said it's been an important marketing tool for them, and she hasn't heard a resident or family member complain about it.
Evelyn Young, whose father-in-law, Wilfred Young Jr., lives at Commonwealth Memory Care, said that so far it seems to be going smoothly at the Norfolk facility. Residents and family members were informed of the change through phone calls and meetings.
An overarching philosophy of Landsverk is to make sure that people have choices and that their interests are considered.
"I think families need to get together and have their parents make clear what is important to them," she said. "There are some men who may not want women around and others who would rather be shot than be without them. An elderly gentleman who likes to chat up the ladies is not going to like it."
Landsverk recalls an older female acquaintance who once was a model who would not cater to the idea either: "We are human animals and contact is important. Older folks do not get touched much, only when they're being cleaned up. So human contact and kindness are important."
In Powell's opinion, staying busy with activities is more important than who he does them with: "As long as you are active, you will stay active. Sit still too long and pretty soon you will not be able to move."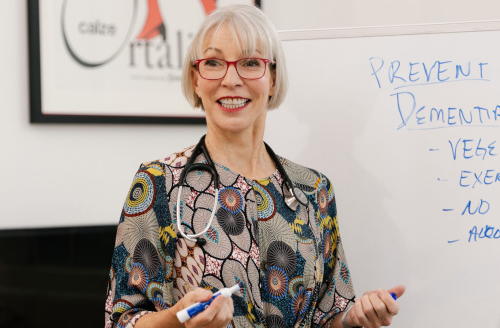 Elizabeth (Dr Liz) has over twenty years of experience in providing medical care to the elders. She is board-certified in Internal Medicine, Geriatric Medicine and Palliative Care Medicine. Dr Landsverk founded ElderConsult Geriatric Medicine, a house calls practice, to address the challenging medical and behavioral issues often facing older patients and their families.