Anyone who's become suddenly drowsy from too much cold medicine knows that medications sometimes have unwanted effects. About 6 percent of hospital admissions can be traced to what we doctors call "adverse drug events" (ADE). That is, prescribed medications caused problems.
Medication reactions are a particular problem for our elders. People over 75 accounts for one-quarter of all those hospitalized with ADE. All of us—family members, caregivers, doctors—need to be on the lookout for this. Does your elder suddenly have a new problem? Always remember to ask, "Has a medication been added or dosage changed?"
The interactions between various drugs and the physiology of an individual are stunningly complex. That's one of the reasons doctors spend so much time in training. But as a family member or caregiver, it's always a good idea to keep a running list of medications, dosages, and timing. Take all medications, including supplements and over-the-counter medicines, to appointments.
Always consult a physician before adding or changing medication, but here are some of the drugs that most commonly cause problems for elders:
Blood Thinners
Coumadin/Warfarin, Plavix/Clopidogrel, Eliquis, Aspirin alone or in combination with Non-Steroidal Anti-Inflammatory meds (NSAIDs) such as Naprosyn, Motrin/Ibuprofen
Takers can experience internal bleeding or excessive bleeding if there's a head injury.
Antibiotics
The most common reaction is allergy: acute shortness of breath, low blood pressure, severe rash. Antibiotics can also cause diarrhea, which can be extremely serious for elders.
Diabetes Medications
These can sometimes cause dangerously low blood sugar.
Blood Pressure Medications
Sometimes, elders are kept on the same meds and doses for years. But some elders lose weight over time. Weight loss can lead to overly low blood pressure without adjusting the dosage.
Sleeping Pills, Anti-Anxiety Pills
Elders and women are three times more likely to get these meds for anxiety or poor sleep. These pills are quickly addictive. If stopped abruptly, withdrawal can lead to more confusion, anxiety, agitation, and poor sleep. They also can lead to falls, confusion, and accidents. In our practice, we do not prescribe these medications.
Narcotics
These medications should not be used regularly in elders. They can increase sedation, and thereby falls, constipation, nausea.
Dementia Cures
There are not any supplements or pills to cure dementia.
Anticholinergic Medications
Tylenol PM, Atarax, Unisom, bladder pills, all decrease choline (the molecule the nerve cells use to communicate). This decrease can result in more confusion and aggression, constipation, dry mouth, and urinary problems.
Alcohol
Alcohol is not a medication, but it causes many problems when it interacts with various drugs. It's best to decrease, or stop, drinking as one ages.
For more information, see go to Elder Consult.
Tune In Saturdays at Noon (PST) for High Noon with Dr Liz + Friends
Check Out Our Upcoming Workshops
Personalized One-To-One Education
For more information about Elderconsult call 650.357.8834.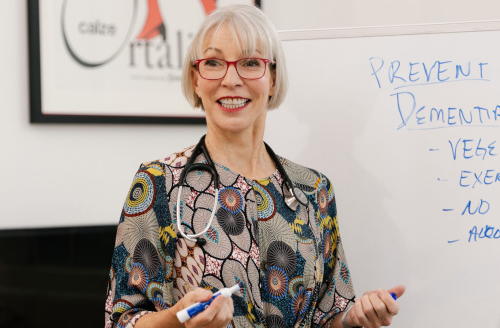 Elizabeth (Dr Liz) has over twenty years of experience in providing medical care to the elders. She is board-certified in Internal Medicine, Geriatric Medicine and Palliative Care Medicine. Dr Landsverk founded ElderConsult Geriatric Medicine, a house calls practice, to address the challenging medical and behavioral issues often facing older patients and their families.