Doctors are people too. And like all people, doctors find themselves attracted to the newest and shiniest things. This goes for medicines, too. We doctors like to use the latest drugs.
However, in my geriatric house calls practice, I've found that the newest meds don't always work the best in older dementia patients. For instance, I frequently have to take patients off new antidepressants like Effexor or Cymbalta. Whenever possible, I like to rely on older medications that have been studied and used for at least a decade or more. Of course, I can't diagnose anyone from afar. But I've had great luck in treating patients with Celexa/Citalopram, one of the oldest antidepressants on the market.
Look for a medical center or a medical school with a robust geriatrics department. The doctors there will know about how psychiatric drugs may effect the elderly.
Despite reports that some psychoactive meds only work 20 percent of the time, I have found that, when used properly, these medications can improve patients' lives more than 90 percent of the time.
Check our Medications section on the ElderConsult website. And, of course, consult your own doctor.
Elizabeth Landsverk, MD
Board Certified in Internal Medicine, Geriatrics and Palliative Care Medicine
ElderConsult Geriatric Medicine, a House calls practice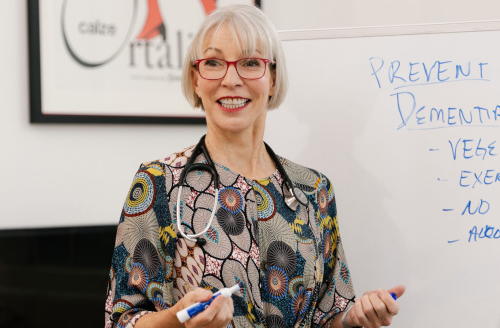 Elizabeth (Dr Liz) has over twenty years of experience in providing medical care to the elders. She is board-certified in Internal Medicine, Geriatric Medicine and Palliative Care Medicine. Dr Landsverk founded ElderConsult Geriatric Medicine, a house calls practice, to address the challenging medical and behavioral issues often facing older patients and their families.