Sadly, scammers and con men often diagnose early dementia and vulnerable adults better than most doctors and legal professionals.
We all think that elder abuse happens to others: the mail order scams, the lotteries, the criminals that prey on elders by stealing their credit card and bank account numbers, the grifters that move in and become Grandma's new best friend.
Yet it can happen to almost any family, even a family trying to be caring and keep track of their loved ones.
Why? First, the Internet age has served up access to our elders like never before. A scam is just a click away. Second, many extended families today are scattered across the country, making it more challenging to know what's going on with our loved ones.
There's no guarantee your loved one won't fall victim to some elder abuse, but a few steps can make it a lot less likely.
First, have a family meeting early in the aging journey. What are your loved one's priorities for this stage of life? Is there a will? If not, have an elder law attorney draft one. If you have these problematic discussions early, it prevents all kinds of problems later.
Second, make sure to have your loved one evaluated if their behavior changes, or there's suddenly a new "best friend" in their lives, or if they suddenly have a personality change. It's essential to have this evaluation done by a professional specializing in elders, preferably a neuropsychologist. You can find more information about the types of assessments on our website.
Third, create a "team" that can help your loved one when needed. This group might be siblings or other relatives, a professional care manager, a fiduciary to handle finances, an attorney, a geriatrician, or all these.
Sometimes, the only way to protect the elder is through the court by conservatorship or guardianship. The laws governing these roles vary from state to state. But if you're concerned, don't delay consulting an elder law specialty.
Our society has never had so many elders. We have a duty to them all to create the safety net to allow them to live life to their fullest and limit the abuses they may face.
If you have more questions about elder abuse, ask any question at Elder Consult's Community Chat or schedule a private One-to-One Education session. For caregiver questions, contact Tami Anastasi. For medical education, contact Dr Liz.
Tune In Saturdays at Noon (PST) for High Noon with Dr Liz + Friends
Check Out Our Upcoming Workshops
Get Help Dealing with Loved Ones – One-To-One Education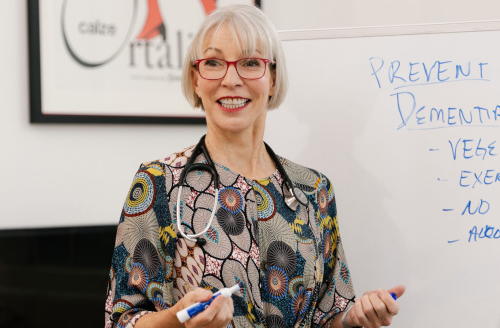 Elizabeth (Dr Liz) has over twenty years of experience in providing medical care to the elders. She is board-certified in Internal Medicine, Geriatric Medicine and Palliative Care Medicine. Dr Landsverk founded ElderConsult Geriatric Medicine, a house calls practice, to address the challenging medical and behavioral issues often facing older patients and their families.