No matter where you are, caring for an elder with medical and cognitive issues can be challenging. It can be doubly difficult if you live in a rural area.
One trend that hasn't gotten much public attention is the closing of rural hospitals nationwide. Since 2005, more than 170 community hospitals in rural areas have been shut down. Often, this has happened after for-profit corporations have taken over hospital groups. Not only this, but we have a nationwide shortage of caregivers, visiting nurses, and supplies. These shortages affect rural places even more than cities since people rely more on visiting health workers.
These factors have profound implications for the 46 million Americans who live in the country. These elders represent 15 percent of the population. Of those over 65, Twenty percent
of those over 65 live in rural areas. These residents are, on average older and more impoverished. They are also more likely to struggle with obesity, high blood pressure, and diabetes.
This is the situation in rural America: Increasing healthcare needs, decreasing healthcare availability.
What does this mean if you are trying to care for a loved one who lives beyond suburbia? Planning and communication—always important in eldercare—will be even more crucial for you and your loved one.
Here are some things to make sure you have in order:
Transportation. Getting from place to place is always important, but even more so in areas where the distances tend to be longer.
Legal Planning. Don't put off these conversations. It's never too early to talk about wills, power of attorney, fiduciaries, and advance health care directives.
Your Elder's Wishes. What does your loved one want? What's important to him or her? What's possible?
Lifestyle Changes. If at all possible, try to encourage your elder to exercise. Encourage a Mediterranean diet with lots of fruits, vegetables, and whole grains.
In the long-term, we need to address the problem of closing rural hospitals. More funding and more attention would be a start. In the meantime, families need to take the initiative.
Tune In Saturdays at Noon (PST) for High Noon with Dr Liz + Friends
Check Out Our Upcoming Workshops
Telehealth: One-To-One Education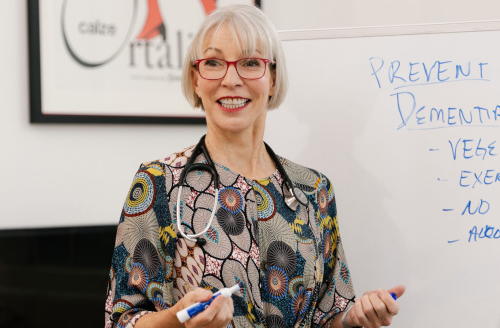 Elizabeth (Dr Liz) has over twenty years of experience in providing medical care to the elders. She is board-certified in Internal Medicine, Geriatric Medicine and Palliative Care Medicine. Dr Landsverk founded ElderConsult Geriatric Medicine, a house calls practice, to address the challenging medical and behavioral issues often facing older patients and their families.