Adults aged 65 and older account for 16 percent of American adults, but 80 percent of deaths from COVID-19 and 40 percent of all COVID-related deaths have occurred in nursing homes.
These statistics are not only a tragedy; they are a travesty. We must do better to protect our elders, especially those who live in community settings like nursing homes. Alas, we have a long way to go.
If you have a loved one who's living in a nursing home, here are some things to think about, and some things worth fighting for:
Elders with dementia can't be given responsibility for safety.
You can't just remind these elders not to touch their faces, or to remember to wear a mask or wash their hands. The facility needs to supervise, make sure these things get done.
Push for testing. Push for testing results that are reported promptly.
If it takes a week or two to receive test results, it's hardly worth doing. Facilities need to get results in a day or two. That's the only way they can track cases and contacts. That's the only way they can institute a quarantine if necessary. Remember, 60 percent of people who test positive have no symptoms. Staff must be tested regularly.
If residents or staff test positive, insist on 14-day quarantines.
Those with the virus must self-isolate. That is the only thing that will stop the spread. New residents also should quarantine for 14 days.
Facilities must institute measures to decrease isolation.
Everyone needs human contact. Make sure the facility has programs that allow elders to interact safely: outdoor activities, socially distanced music, one-on-one interaction.
Ask what the facility is doing to restructure care during this crisis.
For instance, if a staff person helps each resident eat, that is also a chance for socializing.
Tune In Saturdays at Noon (PST) for High Noon with Dr Liz + Friends
Check Out Our Upcoming Workshops
Personalized One-To-One Education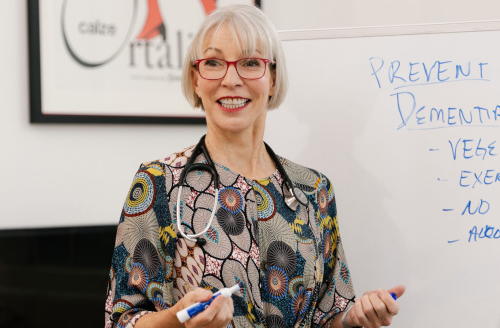 Elizabeth (Dr Liz) has over twenty years of experience in providing medical care to the elders. She is board-certified in Internal Medicine, Geriatric Medicine and Palliative Care Medicine. Dr Landsverk founded ElderConsult Geriatric Medicine, a house calls practice, to address the challenging medical and behavioral issues often facing older patients and their families.