Who knew that gut health could be such a hot topic? Constipation is perhaps the problem I see most often as I'm doing house calls for elders around the San Francisco Bay Area.
I often say, "If your gut isn't healthy, nothing else matters." Being plugged up is not only uncomfortable; it can lead to more severe health problems.
Luckily, there are simple, non-medical steps that elders and their caregivers can take to keep bowels in good working order:
Drink six glasses of fluid each day. Some elders only take little sips. In those cases, ice cream, cashew cream, or sorbet can deliver the fluid. Use sugar-free alternatives if that's an issue for your elder. Most will not fight the chance to have more of these treats!
Reduce or altogether avoid caffeine intake. Coffee, tea, and caffeinated sodas increase urination. Peeing too much can lead to dehydration that makes constipation worse.
Eat a Mediterranean diet rich in fiber: fruits, vegetables, whole grains, and beans. A diet of meat, white bread, pasta, and sweets often leads straight to backed-up bowels.
Keep moving! Exercise keeps the bowels going. A daily walk can do wonders.
Black licorice can help jumpstart your gut. But don't overdo it!
If your elder has not had a bowel movement in three days, it's time to call the doctor. Every extra day after that increases the risk of serious problems. Various medications can cause constipation, including calcium, iron, gabapentin, bladder pills, and allergy pills.
You can find more information at Elderconsult.com/medications.
Tune In Saturdays at Noon (PST) for High Noon with Dr Liz + Friends
Check Out Our Upcoming Workshops
Telehealth: One-To-One Education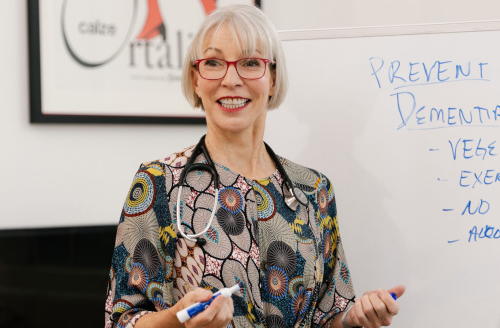 Elizabeth (Dr Liz) has over twenty years of experience in providing medical care to the elders. She is board-certified in Internal Medicine, Geriatric Medicine and Palliative Care Medicine. Dr Landsverk founded ElderConsult Geriatric Medicine, a house calls practice, to address the challenging medical and behavioral issues often facing older patients and their families.