In my practice working with the families of those who are old and suffering from dementia, I have found that few things are more misunderstood than the concept of "hospice."
Many folks seem to think that "hospice" means that the medical team stops trying, that once a family chooses hospice, there's nothing to do but wait around for a "death panel." Nothing could be further from the truth.
At ElderConsult, and in all medical contexts, hospice is meant for people who probably have no more than six months left to live. However, it's important to remember that doctors are not seers. We don't have a magic crystal ball to predict when the end will come. I've had patients go into hospice, then get better and come off hospice.
"Hospice" is not just "waiting around to die." Hospice is not meant to kill the elder.
Instead, hospice shifts the focus from cure to comfort. When I'm treating an elder in hospice, I don't focus on solving every medical problem. Instead, I try to find out what makes life worth living for the elder and their family. I also try to make the person as comfortable as possible.
How can we bring joy, engagement, and comfort to someone approaching the end of life? That's the central question of hospice care.
In hospice care, professionals are there to help both the elder and the family cope emotionally. You will not get this at a hospital.
If the elder has concerning symptoms in hospice care, a nurse will respond quickly, night or day.
In hospice care, all the equipment needed for this journey will be provided.
In hospice care, family members and other caregivers get instructions on how best to care for the elder, given their circumstances.
If your elder seems to be approaching death, don't be afraid of hospice. Having comprehensive care that includes pain control, emotional support, and practical guidance will make this life stage as comfortable and calm as possible.
Tune In Saturdays at Noon (PST) for High Noon with Dr Liz + Friends
Check Out Our Upcoming Workshops
One-To-One Education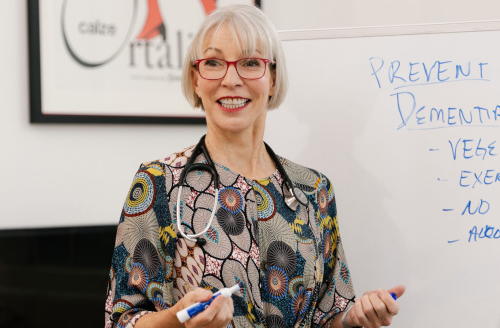 Elizabeth (Dr Liz) has over twenty years of experience in providing medical care to the elders. She is board-certified in Internal Medicine, Geriatric Medicine and Palliative Care Medicine. Dr Landsverk founded ElderConsult Geriatric Medicine, a house calls practice, to address the challenging medical and behavioral issues often facing older patients and their families.