Earlier this month, a large study cast doubt on whether exercise can help nursing home residents with depression.
The study, published in BMC Medicine, followed more than 1,000 residents in 78 "care homes" in the United Kingdom. It found that the number of elders who participated in exercise classes was low, only about half of the residents attended classes. And it found that only 36 percent attended an exercise class once a week, and that depressed patients attended exercise classes even less frequently than that. It concluded that perhaps nursing home patients are too frail, both physically and mentally, to exercise enough to ease symptoms of depression.
It's clear that, in this study, exercise alone did not work to help patients suffering from depression.
But I would be very distressed if this study led families and caregivers to conclude that exercise just doesn't work for depression. The authors of this study acknowledged that the culture of the nursing homes tended to emphasize safety, minimizing the risk of falls, over activity, such as the exercise classes. So perhaps, the problem wasn't that exercise didn't help, it was that the culture of the nursing homes didn't encourage enough exercise to make a difference.
Actually, many recent studies have shown that exercise is one of the few things that can prevent, or delay the onset of dementia. It also seems to help with the symptoms of Parkinson's disease.
However, the nursing home needs to have a culture that supports exercise, and also supports holistic treatment of depression. That may mean encouraging residents to go to movement classes. It may also mean recognizing that apathy is a symptom of dementia. So that may mean giving appropriate medications that help elders regain the motivation to do things.
Also, don't ask an elder if he or she "wants" to exercise. Just say, in a cheerful tone of voice, "It's time for exercise!" And give some ice cream, or another treat, as a reward after exercise class. It's worked for many of my patients.
Elizabeth Landsverk MD Geriatrician, House calls doctor for Marin, Burlingame, San Francisco, San Jose, Walnut Creek –  On call 24/7, working to avoid trips to the ER – Working to reduce medications, and improve enjoyment of every day.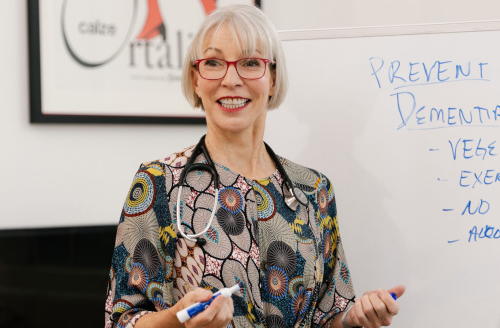 Elizabeth (Dr Liz) has over twenty years of experience in providing medical care to the elders. She is board-certified in Internal Medicine, Geriatric Medicine and Palliative Care Medicine. Dr Landsverk founded ElderConsult Geriatric Medicine, a house calls practice, to address the challenging medical and behavioral issues often facing older patients and their families.