As I was clicking around the Internet recently, I came across a letter from the British Secretary of State for Health, calling upon local authorities to promote greater awareness of dementia, to try to diagnose dementia early and to encourage both patients and their caregivers to take advantage of supportive therapies.
Wow. The British are so far ahead of us on this.
For one thing, they don't just talk about "holistic" or "patient-centered" medicine, they actually fund local "health and wellbeing boards." These boards were created in 2012 to improve cooperation between health professionals, social service workers, public health, and related public services.
The British secretary was urging these local boards to make sure that elders and their families took advantage of these services:
• Dementia advisors to help dementia patients and their caregivers.
• Counseling for those diagnosed with dementia, and for their caregivers.
• Reminiscence therapy to stimulate the minds of dementia patients.
All I can say is: We need to do this! We don't have to duplicate Britain's National Health Service, but elders would be so much better served if we could work toward earlier screening and coordinated care for dementia patients.
What do you think? How might we work toward this goal in this country?
Elizabeth Landsverk, MD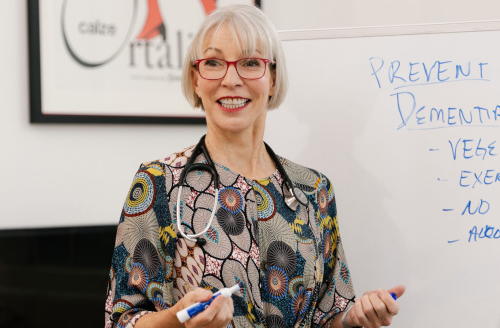 Elizabeth (Dr Liz) has over twenty years of experience in providing medical care to the elders. She is board-certified in Internal Medicine, Geriatric Medicine and Palliative Care Medicine. Dr Landsverk founded ElderConsult Geriatric Medicine, a house calls practice, to address the challenging medical and behavioral issues often facing older patients and their families.