It is essential to report the information to adult protective services when you see elder abuse. Adult protective services organizations exist in all 50 states and on tribal lands across America. They provide a range of elder abuse prevention, intervention, and treatment services for elderly adults who are victims of elder abuse or neglect, such as:
Physical Abuse
Sexual Abuse
Emotional Abuse/Neglect
1. What is Adult Protective Services
Adult Protective Services (APS) is a federal agency that assists elderly, disabled, and dependent adults who are victims of abuse or neglect. According to the National Center on Elder Abuse (NCEA), APS investigates reports of elder abuse, which includes physical, sexual, and emotional abuse as well as financial exploitation. The NCEA estimates that only one out of every 14 cases of elder mistreatment is reported. Adult Protective Services can offer relief for those abused by filing court documents or providing other legal remedies to restore the victim's safety and independence.
Adult Protective Services (APS) is a program that provides support for adults who are in danger of abuse, neglect, or exploitation. If you call the APS hotline and report your concerns, an APS worker investigates your claim by performing interviews with you and other involved parties to determine its merit. The investigation might also include home visits or medical examinations.
There are many reasons why someone may be unable to care for themselves independently, so this service can assist with bathing, dressing, and preparing meals if necessary. This can allow people who require additional help to remain in their own homes while still receiving the level of care they need.
2. Who Can Get Help from APS
Any vulnerable person over 18 years old may need protection from those trying to take advantage of them. Adult Protective Services provides help for people who are unable or refuse to protect themselves from abuse, neglect, or exploitation due to physical or mental impairment. In some cases, they can provide services such as home visits and respite care so that caregivers can take time off without worrying about the safety of their loved ones. Contact your local department of aging if you need more information on this program."
Every California County has an Adult Protective Services (APS) agency to assist elderly adults (65+ years) and disabled adults (18-64 who are dependent) when they are unable to handle their own needs or are victims of abuse, neglect, or exploitation.
3. Types of Abuse that are Included in the Definition
Adult protective services is a department of a state's Department of Social Services. Its goal is to protect vulnerable adults at risk of abuse, neglect, or exploitation by providing advocacy and other services. The following types of abuse are covered by Adult Protective Services: physical abuse, sexual assault, emotional/psychological abuse, financial exploitation, or fraud. If you think a loved one may be in an abusive situation, contact Adult Protective Services today for help.
4. Signs of Abuse or Neglect
Have you ever suspected that your elderly loved one might be the victim of abuse or neglect? If you have, it's essential to know what signs to look for. There are several red flags to watch for when determining if a senior is being abused by their caregiver. Here are some of them:
Unexplained cuts, bruises, broken bones, or other injuries
Signs of malnourishment
Unsanitary living conditions (excrement on walls)
Anxiousness surrounding visits from caregivers or family members
Changes in behavior or personality can indicate depression and hopelessness caused by abuse at the hands of a caregiver. For example, an elderly adult may become withdrawn, suspicious, stressed out, or confused about their surroundings.
5. Reporting Abuse or Neglect to Adult Protective Services
To report elder abuse for anyone in the United States, go to: https://eldercare.acl.gov/Public/Index.aspx
Dr Liz Geriatrics
Are you caring for a senior? Dr Liz Geriatrics can help. Our goal is to work with patients, caregivers, and doctors to develop a care plan. We specialize in telehealth for elder care and incorporate it into our care plans. If you need assistance, contact us today at 650-357-8834 x1.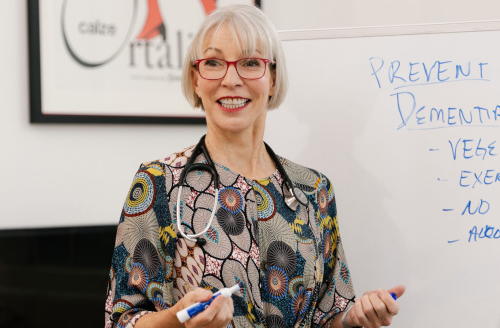 Elizabeth (Dr Liz) has over twenty years of experience in providing medical care to the elders. She is board-certified in Internal Medicine, Geriatric Medicine and Palliative Care Medicine. Dr Landsverk founded ElderConsult Geriatric Medicine, a house calls practice, to address the challenging medical and behavioral issues often facing older patients and their families.