As I was preparing for a talk to nurses and discharge planners in Sacramento, I was reminded of a patient I had a few years ago.
He was a Canadian diplomat. He spoke five languages but had really lost his ability to function. He couldn't really communicate. but he had preserved enough social phrases that he could get by, as long as no one pressed him too far. When I examined him, I soon realized that he could not indicate whether he had chest pain. He could not explain how he would get help if there was a fire.
The bathroom and the kitchen in his home were filthy and decaying. He had hidden a stash of money in a suitcase, James Bond style. He survived by taking bills out the suitcase and using them to buy meals at a local restaurant. He would allow no one in his house, especially if they had equipment of any kind. He did not even want me to use a stethoscope with him. Clearly, he was in danger if he stayed in his house alone.
As I conduct my practice doing house calls in the San Francisco Bay Area, I mainly work to keep the elderly in familiar surroundings. The comfort of being at home, of feeling safe, can be powerful. Often, transferring an elder with dementia to the hospital is disastrous. It would certainly be disastrous for this Canadian gentleman.
In this case, in any case, the first order of business is to try to determine the goals of care. The question I think most important to consider is, "What makes life worth living for this person?" For instance, if a person has shunned doctors for decades, but has now lost capacity, does it make sense to treat all that person's medical issues if the person would not want that?
In the case of the Canadian diplomat, it was difficult to determine his wishes in great detail. But it was clear he wanted to have as much independence as possible, and that he did not want to be surrounded by gadgets, equipment and unfamiliar sights and sounds.
We decided to transfer him to an assisted living facility, and he adjusted well. When he began to decline a few years later, we worked not to send him to the hospital. We brought in hospice so that he could stay in a familiar place with people he trusted.
I never did use a stethoscope with him.
Elizabeth Landsverk MD
Geriatrician, House calls doctor for Marin, Burlingame, San Francisco, San Jose, Walnut Creek
On call 24/7, working to avoid trips to the ER
Working to reduce medications, and improve enjoyment of every day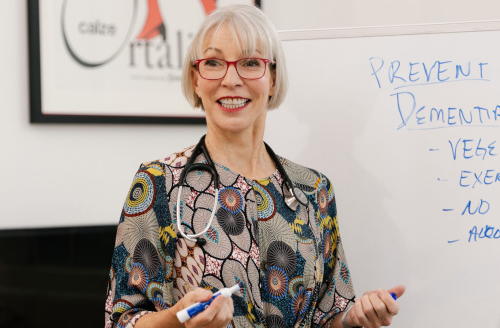 Elizabeth (Dr Liz) has over twenty years of experience in providing medical care to the elders. She is board-certified in Internal Medicine, Geriatric Medicine and Palliative Care Medicine. Dr Landsverk founded ElderConsult Geriatric Medicine, a house calls practice, to address the challenging medical and behavioral issues often facing older patients and their families.